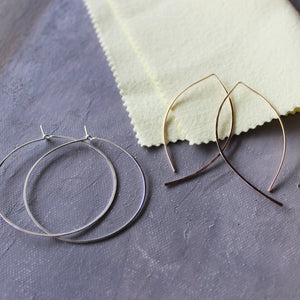 With this easy-to-use Jewelry Polishing Cloth, your jewelry will shine like new! Remove tarnish from silver, gold fill, rose gold fill, gold, and rose gold copper, and brass jewelry in a snap. In seconds, see your earrings shine again.
This easy to use, soft cloth contains special polishing compounds that remove tarnish and shine metals in seconds. Dimensions: 7"L x 5"W
**Do NOT use on silver plated, gold plated, or vermeil - which has a thin layer of precious metal that can rub off.
How to use:
Make sure your piece is clean and dry (no dust). Gently rub jewelry with the cloth to remove tarnish and bring back shine.